Patients concerned after med. marijuana businesses raided | News
PLAINFIELD TOWNSHIP, Mich. (WZZM) -- There are new details about Wednesday's raid of three medical marijuana dispensaries in Kent County.
The Kent County Undersheriff tells WZZM 13 that state and county narcotics teams conducted several undercover operations and then seized marijuana and cash from the businesses in Plainfield Township.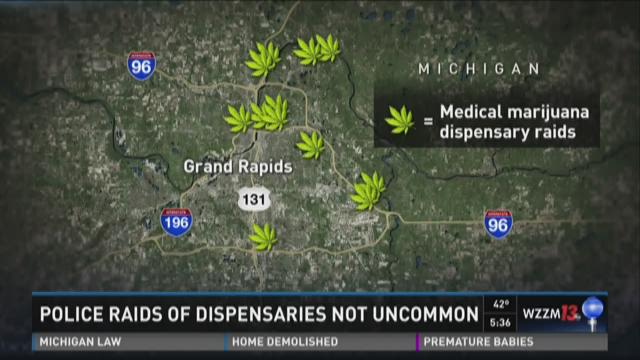 If Thursday mid-morning was any indication, the building marked TPC on West River Drive in Plainfield Township gets its share of traffic.
"Look, you've got customers coming," said patient Adrian Joseph, "and they can't get their medicine right now."
However, a short time later there was an empty parking lot as it became clear to patients with medical marijuana cards the doors are closed.
"I was going to stop in and they said, 'They shut everyone down last night,' and I was like, 'Oh really,'" said Joseph. "I think it's wrong, because I don't have anywhere to go."
TPC was closed, but the Provision Center on Plainfield was open again on Thursday. That's the second of three businesses that authorities raided on Wednesday. The other is on Northland Drive.
Kent County Undersheriff Michelle LaJoye-Young says authorities received tips from people in the area. "The complaints that we received have been over the course of November," said Undersheriff Young. That led to several undercover operations. State and county drug teams seized several materials. "Marijuana material, plants, any product; they'll look for cash that may be related to the business."
Undersheriff Young says the businesses were busted for a simple reason. "Dispensaries are illegal in Michigan, and that means a business whose business it is to distribute to even medical-marijuana card-holders."
"I think police should be using their time to tackle more dangerous criminals, people that are actually doing wrong," said Joseph.
WZZM 13 asked Undersheriff Young if some communities are tougher on this type of crime than other communities.
"I think some communities may have the resources to investigate more completely than other communities, but the same law is across the state of Michigan," she said.
Tips from the community led to the bust, but now others want their voices heard.
"If you're for it, tell people why you're for it, how it helps you," said Joseph.
No one was arrested during the raid. However, the Undersheriff tells WZZM 13 that criminal charges could follow. That will be up to the prosecutors office to decide.